2017 Neighborhood Project Grant Winners
2017 Neighborhood Project Grant Winners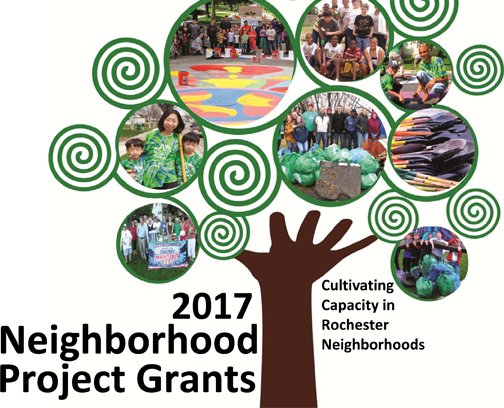 We understand the value and benefits of these grants and are once again applying for this year's grant. Our proposal continues on the theme of 'neighborhood identity'. The members of our association seek to help create a 'neighborhood identity' that will assist in creating a stronger sense of 'place' within the community." – Dennis Davey, Historic Southwest Neighborhood Association

I'm thrilled for this opportunity. I know both of the Kutzky grants will be loved and all the rest on the list look great too. I think once again this a bunch of effective grants that neighborhoods will benefit from. The community really wins with these!" – Tim Hawkins, Kutzky Park Neighborhood Association
Announcing the third year of our Neighborhood Project Grants. Once again we had strong applications with some original ideas from neighborhoods on how to bring neighbors together, while getting positive things accomplished for their living space. These grants reimburse up to $1,000 in costs for neighborhoods to complete projects that enhance a neighborhood's livability and involvement, benefit the entire neighborhood and promote a strong sense of community. Each of the applications had to ensure that the neighbors would put in the volunteer effort to bring the project to completion by October 30, 2017.
This year we were able to award eight different grants to six different neighborhoods. Total Project Grants awards in 2017 is $6,117.40. Additionally, the award for attendance to the upcoming Neighborhoods USA Conference was $1,000.
And the winners are…
Folwell Drive NA: Creative Crosswalk
Homestead Addition NA: 3rd Stage of Pocket Park Improvement
Historic SW NA: Sign Toppers Wayfinding Signs
Kutzky Park NA: Yoga/Bootcamp in the Park
Slatterly Park NA: Welcome Baskets
Meadow Park NA: Field of Dreams – Soccer Goals
Kutzky Park NA: Creative Crosswalk
Art4Trails: Cement concrete pads for public art in Slatterly Park and Historic SW NAs
Neighborhoods USA Conference Scholarship: Christine Schultze, Historic SW NA and Mei-Ling Huie, Historic SW NA
Neighborhood Project Grant Committee Members
• Jaime Rivera, 19th Avenue SW neighborhood association and past Neighborhood Project grant recipient
• Kelly Corbin, State of MN Public Health and RNeighbors board member
• Mike Nigbur, Park and Forestry Division Head
• Julie Hatch, Public Health
• Chad Allen, Rochester Art Center
• René Lafflam, RNeighbors Executive Director
Special thanks to community partners in this effort that have allowed and worked with RNeighbors to offer these grant opportunities.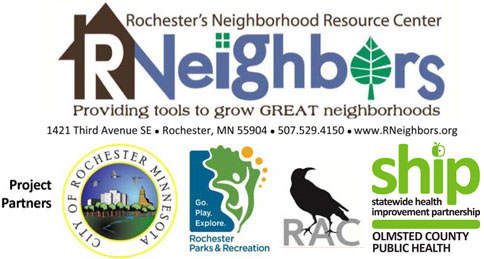 Best of luck to each of the grant winners! We are excited to see the progress and the results of each neighborhood's hard work that we will highlight on facebook and post final results here on our website.