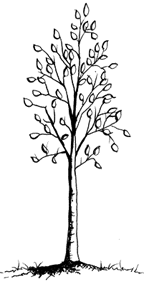 The below information was posted by the Rochester City Forester, Jacob Ryg. For additional information call 507-328-2515 or email Jacob Ryg.
Landscape trees are dying prematurely. In many cases, this is because the correct care is not given at the time of planting and throughout the tree's life. To help remedy this issue, the U.S. Forest Service has created a Tree Owner's Manual. Just like the manual that comes with automobiles and appliances, this booklet includes a parts diagram, instructions for installation, tips for troubleshooting, and more. And like other manuals, hopefully it will be kept in a familiar spot and used as a reference over the course of the tree's life.
The small black-and-white booklet is inexpensive to reproduce so it can be distributed at tree sales, Arbor Day ceremonies, and home shows, as well as to existing landscape and tree care clients. Any organization interested in printing and distributing the manual can have it's logo printed on the cover. If interested, send the mailing address and logo in .jpg or .tif format to Jill Johnson at jilljohnson@fs.fed.us.
For more information or to download a copy, visit this site.
Share on Facebook