A Litter Bit Better 2014
A Litter Bit Better 2014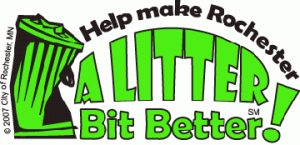 Pick it up on APRIL 19-26, 2014!
During the week of April 19-26, 2014, volunteers from Rochester neighborhoods, businesses, groups, and individuals will once again, be joining together to pick up the litter in our community. Last year, over 3,189 volunteers in 228 groups picked up litter at 245 collection sites that covered 5,185 acres of land in Rochester. These efforts resulted in 24,364 pounds of litter being removed from the environment in 2013's A Litter Bit Better! event. Check out more stats from last year on our website.
You can help by volunteering to pick up Rochester. Register on our website or by calling 507-328-2431.
April 19-26 Groups collect litter across Rochester
We need your help!
Check our website for more about A Litter Bit Better! and for information about the History of the campaign. Please help us gain support for this initiative by dispersing our Litter Bit Better Poster at your work place or around town! Save paper and send a link to this story.
Be a part of something big… Make Rochester A Litter Bit Better!
Select an area of Rochester for collecting litter
Pick a date during A Litter Bit Better week for collecting litter
Recruit family, friends, neighbors, or co-workers to help you collect litter
Register your group, location, and date on-line (after March 1)
Pick up your collection instructions and trash bags
Collect litter on your selected date
Report your results and celebrate your good deed!
Check back to this website for stories and photos from Rochester-wide litter pick up efforts