Aaron Stelpflug
Aaron Stelpflug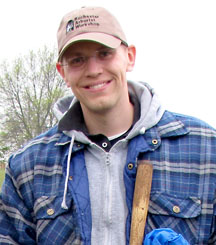 Neighborhood
No current association, but near Elton Hills
Board Member Since
July 2009
Personal Info
I'm married, have a dog, and just had our first baby Autumn.  I also have interests in working out and fitness, the weather, traveling, parasitology, infectious diseases, home improvement, and outdoor activities like hiking and wood cutting for my fireplace.
Education
Biology major with a Chemistry minor, Certification in Clinical Chemistry, currently obtaining a Masters in Management.
Favorite thing or experience with RNeighbors: I love to see the amount of volunteers that come out to the tree plantings, their interest and willingness to learn proper planting and benefits of trees, and the sense of ownership many neighbors feel for the trees planted in their neighborhood.
Community Experiences
Citizen Forester, organize and attend spring/fall community and neighborhood tree plantings, attend yearly Winter and Summer Arborist Workshops. I assist RNeighborWoods with organizing all plantings and other events, strategic planning, promoting forestry, and obtaining funding just to name a few things. I also work with the Rochester Regional Science Fair and Mayo Outreach to Students and Teachers.
RNeighbors Committee
RNeighborwoods President