Building Blocks Neighborhood Party Trailer
Building Blocks Neighborhood Party Trailer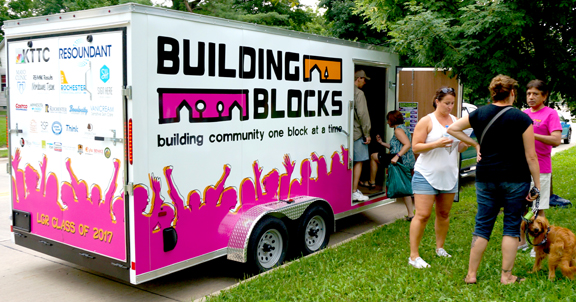 Building Blocks Party Trailer
Always wanted to have a block party for your neighborhood but it seemed like too much work to pull of the necessary items together to pull one off? Thanks to the Chamber's Leadership Greater Rochester Class of 2017 and partnership between Park and Recreation and RNeighbors you can utilize an entire trailer full of what you need for a successful neighborhood bash free of charge. All you need to provide is your neighbors.
The Building Blocks Neighborhood Block Party Trailer is a means to inspire neighbors to gather in places where they live and it provides all the tools necessary to hold a neighborhood gathering.
The block party trailer is for public gatherings only; no private parties. Any event where the trailer is present must be open to all neighbors.
Park and Recreation will drop off the trailer to the location of your choosing, weekend events will have the trailer dropped off on Friday and picked up on Monday.
The trailer is available for use April 1 through October 31.
Reservations available on the first business day of January each year (Jan. 2).  The only exception would be for large community event reservations.
If you'd like to see photos of the trailer in action please check the facebook page. We'd love to see pictures of your gathering and to highlight them on our website and social media. Please email them to René Halasy.
How to Reserve
Please use our online request tool.
You will need to set up an account in this system (Parks & Rec online registration system).
Click on the Building Blocks icon near the bottom of the page.
Navigate to the date you want to request (be sure to click "search" so it updates to that date.  Leave the time at 12 AM).
Click on the green "plus" box and then follow the steps to complete the request.
If you have any trouble completing the request contact Park and Recreation.
Please note proper permitting will need to be acquired through the City of Rochester Special Events Permit (this includes road/sidewalk closure requests and amplified sound).  This permit must be submitted 30 days in advance and does require City Council action for approval.  Look for the Special Events permit on the City Clerk's page.  The application also contains info on renting road closure barricades.
Building Blocks User Guide
This guide is to help you understand the contents inside and setup (if necessary) for the items. Please make sure you place all items back in the proper areas/bins when packing up for the next neighborhood. Download guide here.
Tips for Optimal Trailer Usage
Only those involved with reserving the trailer should be removing/reloading contents.
Please do not allow children in and out of the trailer at any time.
Keep the trailer secured when not in use, INCLUDING during the event.
Keep grill and propane tank away from any building or flammable surface.
Please restrain canopy at all times and refrain from using during windy weather.
Let Parks & Rec know when an item is running low or missing (propane, sidewalk chalk, etc.) so they can replace the contents for the next user.
Please keep the inside of the trailer clear of debris and trash, and make sure all contents are cleaned of food/drink to prevent bug infestations.
Please sweep up the trailer prior to closing and locking after reloading items.
Please make sure any permit not covered by trailer reservation is completed prior to use.
ENJOY the Building Blocks trailer and connecting with your neighborhood!
Block Party Trailer Contents
The Block Party trailer is stocked with everything you need to throw a great block party. A complete list is posted here.
Garbage cans with lids (2)
Fire extinguisher
6' folding tables (8)
6' folding benches (10)
Folding chairs (10)
Igloo coolers 156L (2)
Saber gas grill
Propane tanks (2)
Spare tire
Wheel chocks (4)
Hitch lock
Master locks (3)
First aid kit
Broom
8-panel play yard for babies/toddlers
Nametags
10' x 10' canopy with storage case
Sandbags (4)
Many bins full of yard & board games and activities