Celebrate with RNeighbors – OAKtoberfest 2014
Celebrate with RNeighbors – OAKtoberfest 2014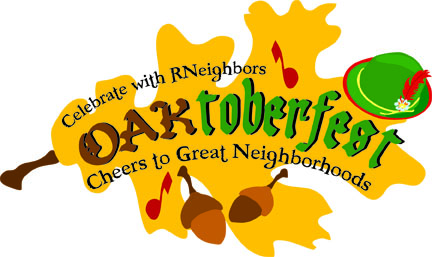 Friday, October 3, 2014
6-9 pm
$30 Ticket advance, $35 at the door
Canadian Honker Events at the Ramada
1517 16th St SW Rochester, MN
You are invited to be a part of this special night celebrating the vibrant neighborhoods in Rochester.
A plethora of German food will be served (see menu below). Each attendee will have their choice of one free tap Oktoberfest Beer, German Wine or mixed drink. Cash bar will be available. Several Neighbor Awards will be given, highlighting the excellent things going on in Rochester neighborhoods. Tracy McCray will be our emcee guides for the evening of roll out the barrel fun.
All of the auction items will follow a tree or beer theme:
100 bottles of beer on the wall
Handcrafted wood items by local craftsmen
Proceeds will support RNeighbors, the Rochester Neighborhood Resource Center, allowing our organization to continue supporting community building projects such as boulevard tree plantings, street mural paintings, new neighborhood associations, as well as collaborative efforts that allow neighbors to build positive relationships. RNeighbors, is a 501(c)3 nonprofit and has been working with Rochester neighborhoods since 2001.

OAKtoberfest Menu
Cold Displays
Meat & Cheese Display – Served with Assorted Artisan Crackers
Fresh Vegetable Display
Smoked Salmon Lox
Assortment of Mixed Nuts, Pretzels and German Mustards
Hot Items
German Pork Cutlet – Served on a Pretzel Roll. Accompanied with Sauerkraut, Duchess Potatoes, Caramelized Onions, Dijon Horseradish Sauce
German Sausage and Brats – Accompanied with Potato Salad, Spicy Mustard and Sauerkraut
Desserts
German Chocolate Bars
Apple Strudel
Bunnie's Coconut Cake