Litter Bit Better Registration Form
Litter Bit Better Registration Form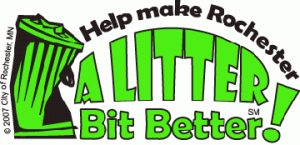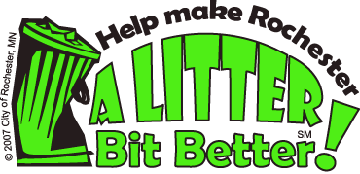 During the week of April 22-29, 2017, Rochester neighborhoods, businesses, groups, schools, and individuals will be working together to pick up the litter in our community.
Will you join in the effort? You can help by volunteering to pick up Rochester. This would be a great service project for a company, department, club, service or faith group, sports team, or neighborhood. Either choose the area you'd like to clean-up or we can assign an area for you or your group, then pick a day during the week to pick it up! Litter Bit Better information fliers can be printed from the website in English, Khmer, Arabic, Bosnian, Hmong, Somali, Spanish, and Vietnamese.
Find a location on the map* and the corresponding number, that your group would like to adopt. A large file PDF of this map can be viewed here. The map of Rochester has been broken down into five separate maps that you can view here.
*Maps are updated as time allows so please be understanding if your first choice is already chosen.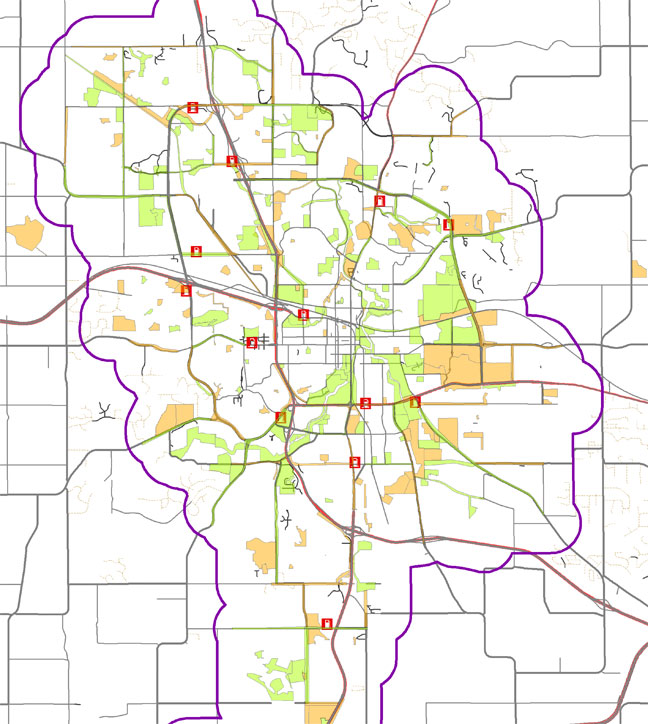 Please contact Mike Kraszewski, Rochester Public Works Department, for additional information, by phone at 328-2431 or by email if you have further questions.
Please complete the registration form online with information how you will help pick up Rochester.
A representative from A Litter Bit Better will contact you within a couple of days with additional information.
Information that you will be sent is included on our website that we ask you please read before your litter collection.
Privacy Policy: The Litter Bit Better partnership will only use the information you submit to help coordinate community clean up efforts. If you have any concerns or questions about information privacy, please contact Megan Moeller, Rochester Public Works Department, for additional information, by phone at 328-2440 or by email. Register today!