NFL Tree Grant Planting Postponed – Tuesday, October 10, 4:30 pm
NFL Tree Grant Planting Postponed – Tuesday, October 10, 4:30 pm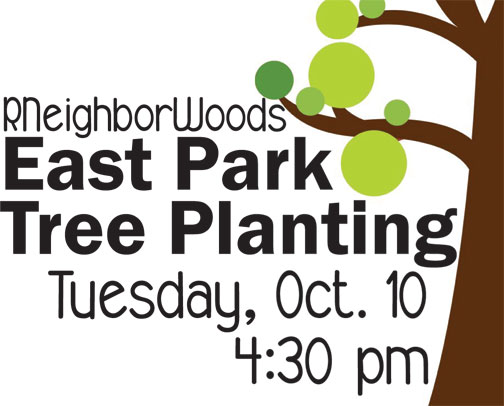 Due to possible storms, the East Park tree planting has been postponed until Tuesday, October 10, at 4:30 pm. All other information remains the same as detailed below.
In February, Minnesota will host the Super Bowl, but on Tuesday, October 3, from 4:30-6 pm, Rochester will kick-off the celebration with a tree planting in East Park (1738 E Center St, Rochester, MN 55904) that is funded through a Super Bowl LII Urban Forestry Grant. Council member Mark Bilderback will start the planting and will be joined by the Eastside neighbors and Boys & Girls Club members.

RNeighbors working in partnership with the Eastside Neighborhood Association, Boys & Girls Club, Forestry Department, Conservation Corps, and Maier Tree & Lawn Service have organized this tree planting opportunity that is a part of Super Bowl LII Urban Forestry Grants. These grants have been awarded not only to Rochester, but also to more than a dozen projects across Minnesota that will restore, beautify and enhance local areas in 2017.
The NFL has incorporated environmental projects into the management of every Super Bowl for the past 25 years. These environmental projects are part of the NFL's broader community impact efforts aimed to leave a positive legacy in each Super Bowl host community. This year, the NFL teamed up with the Minnesota Super Bowl LII Host Committee, Verizon and Andersen Corporation to provide the grants. The Super Bowl Environmental Program is part of the NFL's sustainability platform. Carried out in partnership with the local Super Bowl Host Committee and Verizon, the program aims to reduce the environmental impact of Super Bowl events and leave a positive, "green" legacy in host communities. These efforts include food recovery and distribution, recycling and solid waste management, urban forestry projects and the use of "green energy" to power events.
This Rochester project will plant 25 native trees in East Park, a functional, multi-use park in the diverse Eastside neighborhood where 2,871 residents reside. There are currently 51 ash trees shading East Park. 28 of these trees are scheduled for treatment and 23 have been slated for removal due to Emerald Ash Borer.  This invasive insect is a real threat to the nearly 1 billion Ash trees across the state with only injections or tree removal as options against this killer. In Rochester, approximately 15% of our urban forest is Ash and just in March 1-May 1, 2017, approximately 500 public Ash trees had to be removed.
RNeighborWoods is a program of RNeighbors that is led by a committee of partners and volunteers including the City of Rochester Park and Recreation Department, Olmsted County Youth Commission, Quarry Hill Nature Center, MN Conservation Corps and Maier Tree & Lawn Service. The group's mission is to empower and educate the community to grow a sustainable urban forest, benefiting the health, social, and economic aspects of Rochester neighborhoods.  Through the teamwork of RNeighborWoods since 2004, 6,206 volunteers have planted 7,030 boulevard trees.
Contact information.
Rene Lafflam, Executive Director
RNeighbors
We've moved office locations AND have a new phone number.
125 Elton Hills Drive, Room 240 * Rochester, MN 55901
(507) 244-0451 (cell) * www.RNeighbors.org