About RColorful Corners
About RColorful Corners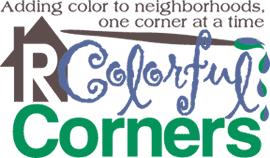 What
Rochester neighborhood members work together to create colorful projects, such as street murals, transforming public space into neighborhood assets.
Why
Without spending a single tax dollar, this grassroots project creates a safer and more livable neighborhood by:
Bringing neighbors together to create art.
Reclaiming public space as a place for community connections.
Calming traffic speed.
About
Late in 2006, several Rochester Neighborhood Association leaders contacted RNeighbors with a news article about a project in St. Paul, Minnesota, called Paint the Pavement. This project involves neighborhood members working together to create a street mural, in an effort to transform an urban street intersection into a neighborhood asset. Those involved believe this program is another tool to calm traffic and improve pedestrian safety in neighborhoods.
We contacted folks in St. Paul and discussed the project with them. At that time they'd created two street murals. They were extremely helpful and believe in the traffic calming aspect of the project and fully support the community building component of the program. Each pavement painting project has joined neighbors together as an education and empowerment tool to address speeding issues that affect livability of a neighborhood.
St. Paul got the idea for their program from Portland, Oregon. Portland has successfully been working on such neighborhood improvement projects for over 10 years in an effort called Portland Intersection Repair Project.
In January 2000, the Portland City Council established a City Ordinance, which set a precedent of allowing neighborhoods to develop their own public gathering places in certain street intersections. Through a process of creative involvement, neighborhoods are now legally empowered to design and build public places that reflect their local culture. There have been no accidents in the years since on any of the intersections in Portland and the street murals are updated annually by each neighborhood.
Again, the folks at City Repair were amazingly helpful and stocked us with useful facts, their city ordinance, and even statistics from a survey they took on the effectiveness of one of their projects. Here are just a few of the questions from their survey and the results.
Crime
87% of respondents feel safer and say that there is less crime.
13% of Respondents feel safety and crime has remained the same.
Traffic Speed
90% of respondents say traffic speed through the intersection has decreased.
10% say traffic speed has remained the same.
Traffic Safety
81% of respondents say traffic safety in the intersection has increased.
19% say traffic safety has remained the same.
Another article that helped guide our planning was The Intersection of Urban Planning, Art, and Public Health: The Sunnyside Piazza, written by Jan C. Semenza, PhD, MPH, MS, for the American Journal of Public Health.
Stocked with such useful knowledge, RNeighbors then brought together neighborhood association leaders, the City Traffic Engineer, a muralist, and representatives from 4-H, Steps to a Healthier Rochester, Hawthorne Literacy Center, and Olmsted County Youth Commission.
This group created a game plan, came up with a name for the program, presented to the Rochester City Council in May 2007, wrote and received a grant for the paint, and on June 17, 2007, carried out a pilot project at an intersection near Hawthorne Literacy Center – 5th Avenue and 7th Street SE.
We hope this project is the first of many for RColorful Corners, coloring Rochester neighborhoods, one corner at a time.