Spring 2017 Community Tree Planting
Spring 2017 Community Tree Planting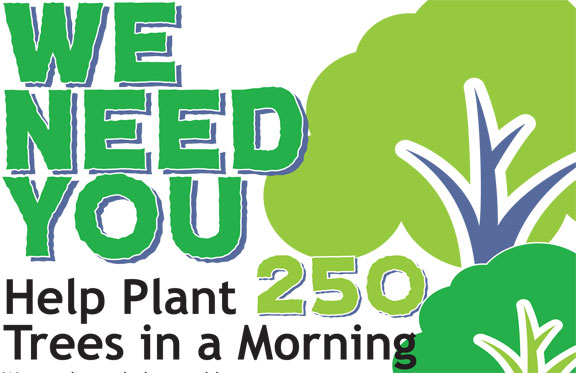 The city's boulevard tree spaces are currently over half empty and each year up to 600 boulevard trees are removed due to disease or damage. We need your help to add 250 more street trees to the northwest Rochester neighborhood on the west of Quarry Hill Park.
Saturday, April 29
Starting at 8:30 am
Meet at the WEST entrance of Quarry Hill Park
9th Street NE & 19th Avenue NE
You'll be able to see our volunteers at the check-in table and will be able to park in the adjacent parking lot. Register at the check-in table. You'll be given a team number, told next steps, and we'll take a giant group photo. Then we'll be off to plant some trees. Each planting group will have at least one Citizen Forester who has taken the course and can guide volunteers to ensure each tree is planted properly.
No Cost
There is no pre-registration needed and all ages are welcome. There will be free refreshments and t-shirts for volun-trees thanks to our sponsors. We'll introduce our Citizen Foresters, go over the logistics of the planting, divide into groups, take the group photo, and then plant trees within this neighborhood.
Print or email this PLANTING POSTER for your friends!
Here is a map overview of the planting. In order to diversify our urban forest we will plant:
Small Stature (for under power lines)
Crabapple
Ironwood
Thornless Hawthorn
Medium Stature
Horse-Chestnut
Large Stature
Northern Catalpa
Common Hackberry
Kentucky Coffeetree
Black Cherry
Swamp White Oak
Northern Pin Oak
Black Oak
Bur Oak
Chinkapin Oak
American Linden
See the photos from all of our tree planting events on our Facebook page. For more about RNeighborWoods including partners, events, and photos, check our website.
Did you know that trees make a difference in many aspects of a neighborhood? The below information is from the Alliance for Community Trees and additional facts and figures can be found on their website.
Lower crime. The presence of trees in urban neighborhoods has been linked to reduced crime.
Cleaner air Trees provide the oxygen we breathe. One acre of trees produces enough oxygen for 18 people to breathe each day and eliminates as much carbon dioxide from the air as is produced from driving a car 26,000 miles.
Energy savings. Trees lower the temperature through shade. The cooling effects of trees can save millions of energy dollars.
More public revenue. Studies have shown that trees enhance community economic stability by attracting businesses and tourists.
Higher property values. Property values of homes with trees in the landscape are 5 – 20% higher than equivalent properties without trees.
More efficient stormwater management. One tree reduces 4000 gallons of storm water runoff annually. 400 trees will capture 140,000 gallons of rainwater annually. That is, 4 million trees would save $14 million in annual storm water runoff costs.