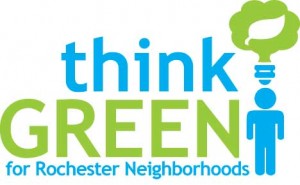 The 2011 Think Green Fair will took place from 11am-4pm on April 16th, 2011 at 6th ST and 11th Ave NW. Many Minnesotans joined us for this FREE, family-friendly celebration of green living and sustainability in southern Minnesota!
The fair included musical entertainment, local food, hands-on learning, and children's activities providing you the opportunity to think green in all aspects of your life.  The goal of the fair is to educate attendees in the areas of:
Local and Organic Foods
Reduce Waste
Expand Green Building Practices and Land Use
Support Development of Renewable Energy
Conserve and Protect Water and Energy Resources
Volunteer in Nonprofit Organizations Focused on Green Initiatives
Promote Creative Up-Cycling
Expand Green Purchasing
What is Thinking Green? Thinking green means learning to live in a way that will reduce your impact on the environment, improve your quality of life, and save you money. Thinking Green is about coming together with neighborhoods, communities, organizations, and businesses to ensure that the choices we make today will not compromise the quality of life for future generations.
Check Out Our Past Think Green Fairs at: Remember the Think Green Fair

Share on Facebook