About Neighborhood Project Grants
About Neighborhood Project Grants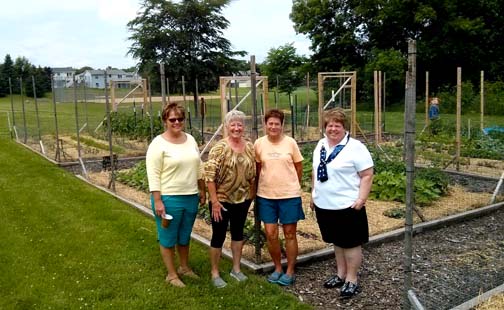 Background
This program started off in the spring of 2015 with funds from the City of Rochester and Olmsted County Public Health, with oversight from RNeighbors. 
Offered once a year in the spring, these grants reimburse up to $1,000 in costs for neighborhoods to complete projects that enhance a neighborhood's livability and involvement, benefit the entire neighborhood and promote a strong sense of community. Creativity is encouraged!
These non-revenue producing projects can include, but are not limited to, identification signage, butterfly & rain gardens, native plantscaping and public art projects.
Eligible Applicants
Individuals and community groups must work with their neighborhood association to apply for grants.

A complete list of existing registered neighborhood associations is available online.

For more information on establishing an association in your neighborhood, or questions related to the grant application process, contact René Lafflam, RNeighbors' Executive Director.
Project Evaluation and Selection
The Neighborhood Project Grant selection team review submittals based on their merits and make a recommendation to the RNeighbors Board of Directors for final decisions. Keep in mind that Neighborhood Project Grants are competitive, and the number and size of awards are limited by the amount of available funding.
Applications will be reviewed and selected based on the project's ability to reflect the following objectives.
Empower citizen leaders

Foster a vibrant, healthy and livable community

Nurture citizen involvement for positive change
General Requirements
Successful projects will focus on improving a neighborhood's community involvement and livability.

Neighborhood associations can request more than one grant as long as the total dollar requested per association does not exceed $1,000. A realistic budget of all expenses for the project must be included with the application.

Projects with matching funds and/or in-kind labor (e.g., volunteer time, donated supplies, discounted materials, etc.) will be given greater consideration for grant funding. Examples of eligible match include volunteer labor, donations of equipment, materials or a monetary match from neighborhood association members or donors.

Allowable expenses include (but are not limited to) project materials, rental equipment costs, specialized labor (arborist, heavy equipment operator, muralist, etc.), landfill fees, cleanup supplies (paint, gloves, garbage bags, etc.) and delivery charges.

Unallowable expenses include grant writing, routine maintenance, ongoing operating expenses, advertising and promotion, sponsorship of ongoing program efforts through another entity (e.g., Police Department's neighborhood dog walker watch program), unspecialized labor costs, yard equipment (exception for community food garden grants), food and beverages, facility rental, after-event parties, or any expenditure deemed to be inconsistent with the grant program purpose or not allowed by law or ordinance.

All projects must adhere to the City of Rochester's ordinance and approval processes.

Applicants are required to work with registered neighborhood associations.

Incomplete applications will not be considered.

Project photos taken or submitted may be used by RNeighbors on the website and/or social media.

A final report will be required and must include an updated neighborhood contact list (details will be provided to all awardees).